Learn the Steps to create a risk assessment and send it to vendor
Step 1
Log into Ostendio. Go to the "Assessments" module, click on the External assessment tab and select "Create Assessment".

Step 2
Fill out the Assessment Information by providing all required fields marked with an asterisk and choose the type of Assessment you would like to send to the Vendor.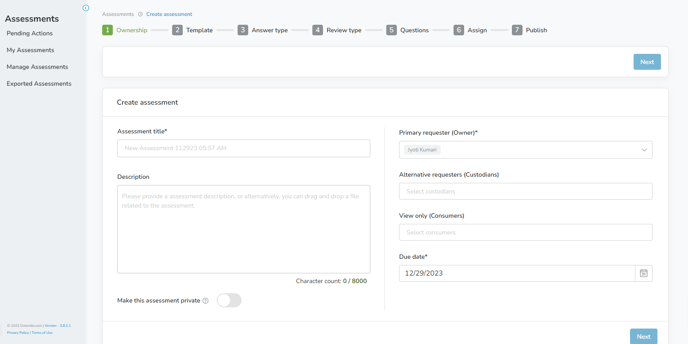 See Related Help Articles on Assessment Template Types:
*Tip* To see more question type options, select "custom" from the question type dropdown. A "custom question type" dropdown will now appear, allowing you select additional question types such as multiple choice, scale (1-5), yes/no, and text response.

Step 3
Select "Next" to view and edit the Assessment questions. Once you have reviewed and are ready to send the assessment to your Vendor, select "Next" to send the assessment.


Step 4
Select your Vendor
Choose your Vendor from a list of Vendors you have previously engaged with, through the "My connection" dropdown. If you have not worked with the Vendor in MyVCM, choose "Create New Organization".



A Vendor can be added through either the MyVCM Trust Network or from your Organization. You can search for a company via the search bar, or browse them alphabetically. If you would like to establish a new vendor to send an Assessment, select "Create New Organization"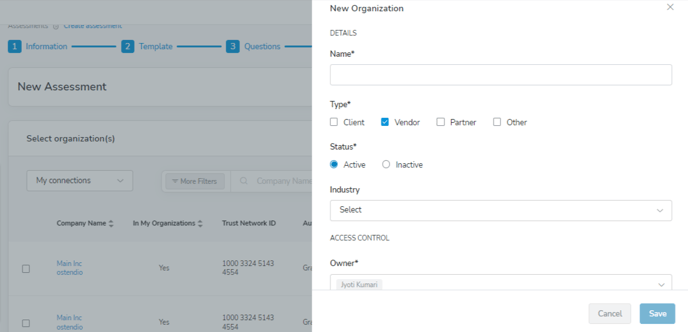 Type in the company domain, and select the correct domain of the Vendor of which you wish to send an Assessment. Fill out the required fields (including Company Contacts) and click submit. Once the assessment is published, these contacts will receive an invitation to complete the assessment through MyVCM Lite.
You can select more than one vendor (up to 50) to send the assessment to at once. If there are multiple points of contact available when creating a new vendor, select one of them to be the assessment recipient. That contact will then be able to add up to 4 other users on their MyVCM Lite account.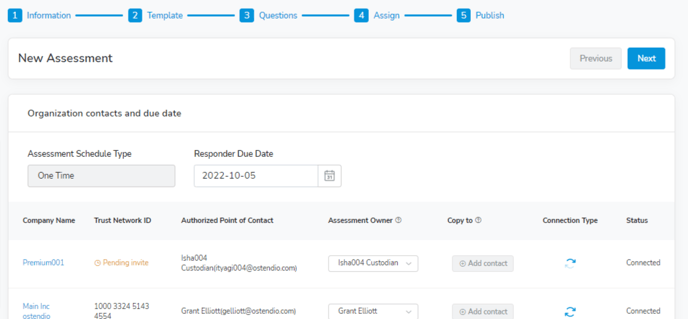 Definitions
Requester: The person who is responsible for building the assessment, ensuring that the assessment covers the required questions before sending it to an internal or external auditor or the vendor. There can only be one Owner per assessment and it is a required field.
Responder: The person to whom the assessment is sent. The responder is responsible for completing the assessment.
Be sure to enter a recipient due date if you would like to include a due date for the Vendor to complete the assessment.
Step 5
Check the box to complete the Vendor Assessment Confirmation, and "Send Assessment to Vendor"

*Note* MyVCM Vendor Connect will fill 1 license when a MyVCM customer establishes a new connection for the requesting MyVCM instance. Only the MyVCM instance that is initiating the request is charged a license. For a detailed view of how MyVCM Trust Network licensing works, view our help article here.