Changing your company's user count, plan type or billing contact can only be done by a Site-Administrator.
How to access your company's plan and payment information:
You can either select the setting option by clicking the drop-down in the top right corner or directly click the setting option provided at the bottom left to select Billing & Subscription.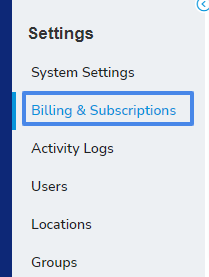 Adding Additional Licenses:
Once this page opens you will see the 'Add License button' Click that button to increase your seats.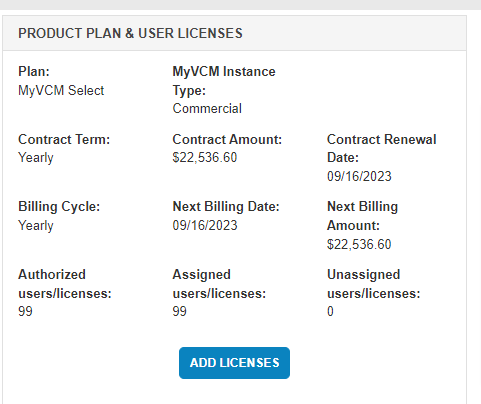 Removing Licenses:
To downgrade your license count just email support@ostendio.com and we'll get that taken care of for you.
You can have up to 100 licenses on MyVCM Select. After 100 licenses you have exceeded your limit, and will need to upgrade to MyVCM Premium, which includes training from providers such as KnowBe4 and premium policy and procedure documentation from ComplianceForge.

MyVCM Select can be paid by invoice or credit card. MyVCM Premium and Enterprise can only be paid by invoice.

If a member of your accounting or finance team would like to be the point of contact for everything billing related, you can now add them as a separate billing contact (this is an option - not required.)
To learn more about your pricing and plan options, please visit: https://ostendio.com/product/myvcm-pricing/
To upgrade, please email billing@ostendio.com